Based on the many, many dinosaur books that I've read, here is my pick for the best fiction and non-fiction dinosaur-themed books for kids between the ages of 3 and 7 years old.
As always, click on the blue, bolded text or the images to see more details on a specific book or book series.
1.Dinosaur Days
This Science Reader book is an excellent introduction to dinosaurs for kids. It talks about what the word dinosaur means, what fossils are, and focuses on quick descriptions and pictures of 11 different types of dinos.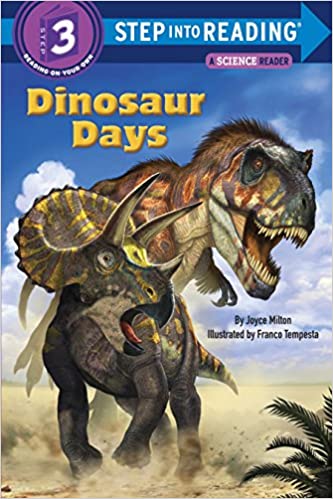 This 47-page book is also great for beginner readers – it's a Step 3 or Level 2.6 AR reading level. Kids in grades 1-3 can read to themselves, while younger kids will enjoy listening to the book.
2. Dinosaur Dictionary: An A to Z of Dinosaurs & Prehistoric  Reptiles
For the dinosaur enthusiast in your life, this 60-page dinosaur dictionary book devotes a half-page to each dinosaur that is included, arranged alphabetically. The dictionary provides information like length, characteristics, where its fossils were found, pronunciation (which I found very helpful!), and, of course, a picture.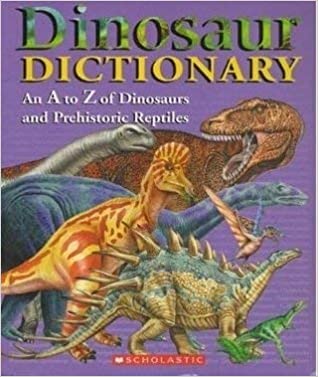 Two other nice features are the 2-page glossary and 2-page index in the back, making it easy to find your favorite dino quickly.
3. The "How Do Dinosaurs" Series
A classic book series that teaches helpful skills, in addition to being humorous for kids. These books teach kids expectations for relationships (How Do Dinosaurs Play With Their Friends), learning (How Do Dinosaurs Learn Their Colors), responsibility (How Do Dinosaurs Love Their Dogs), and more.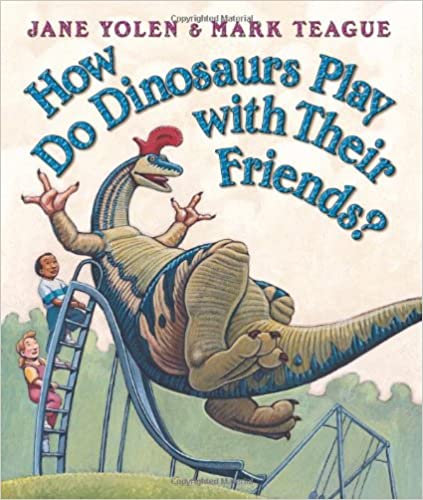 These books can be especially helpful when you're trying to reinforce specific habits with your kids. My son wants to read the entire series, which includes somewhere around 20 books.
4. Edwina The Dinosaur Who Didn't Know She Was Extinct
A book from well-known children's author Mo Willems, of the popular Pigeon and Elephant & Piggie series of books. This humorous tale chronicles why students and teachers alike love Edwina. But there is one boy who does not. Find out how Edwina ends up winning him over.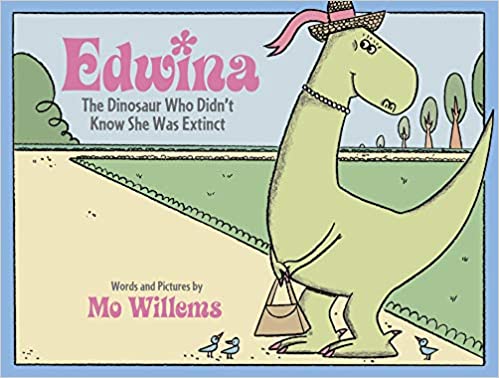 A cute, funny story that is exactly what you expect from a Mo Willems book.  This has been one of our family's favorites for years. It even has a cute 10-minute cartoon that mimics the book that we like to watch. You can see it below:
5. We Don't Eat Our Classmates
This is a new favorite in our house. This book is hilariously funny and even teaches lessons about self-control and changing your behavior! Find out what happens when a T-rex named Penelope finds out that she is in a kindergarten class full of delicious kids.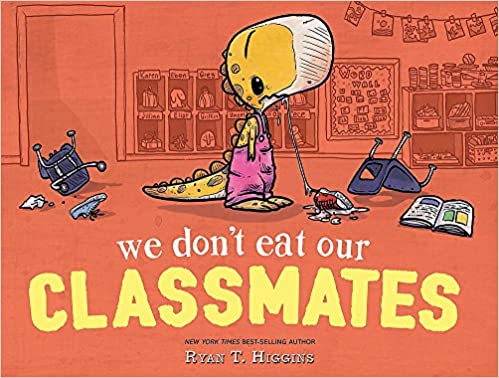 6. The Great Big Dinosaur Treasury
This is a compilation of 8 stories from excellent authors with dinosaurs as the theme of each one. It includes a Curious George story. I can't say I was familiar with the other authors, but all of the stories are fun and engaging.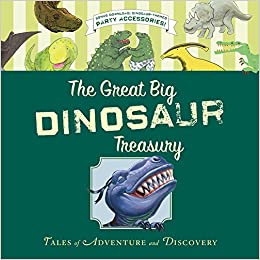 The first story touches on a child's fear of dinosaurs and how his imagination gets the best of him, another story is about how to ride a dinosaur, and the last story is titled Good Night Dinosaurs.
For the Serious Dinosaur Enthusiasts:
These last 2 non-fiction books/series are for kids who want to know anything and everything about specific dinosaur species.
7. Dinosaur series from 21st Century Junior Library
You can get one of the Dinosaur series of books on more than 20 specific dinosaurs, so your dinosaur fan can deep-dive into the facts and history of their favorite prehistoric reptiles. The Brachiosaurus book that we currently have contains 9 short pages of facts and lots of pictures, so it's great for exposing younger kids to more detailed information, but also takes into account that this age group has shorter attention spans.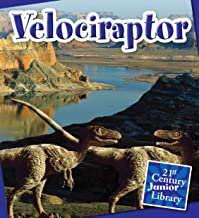 One plus is that the books have a glossary at the end for words that may be new to your young one.
8. Dinosaurs: A Visual Encyclopedia
This comprehensive dinosaur resource provides much more than its name implies. Although the majority of its information focuses on dinosaurs, there are also sections on invertebrates like trilobites and scorpions, early vertebrates like armored fish and sharks, birds, and mammals.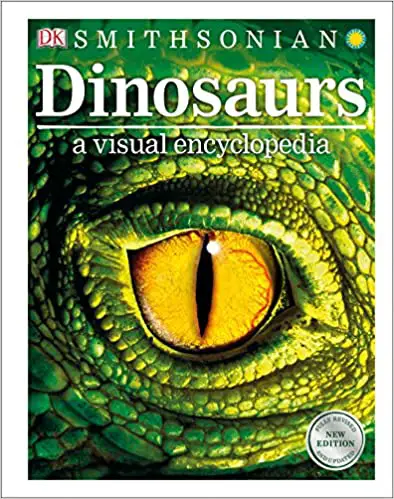 This is by far my son's favorite dinosaur book since we can read about dinosaurs not usually covered in shorter books. Information on each species includes pronunciation, when it lived, fossil location, length, diet, a paragraph of description, and an image. Each entry is classified by its family. This is the ultimate dinosaur dictionary book.