Many people are fascinated by dinosaurs. If you are one of them, I invite you to browse the best dinosaur museums in the world so that you can see the greatness of the dinosaurs in person. And, believe me, it is not the same to see them in reality than to see them on film.
Museum fur Naturkunde in Berlin
For me, it is one of the best museums in the world. Not only do I recommend it for its large dimensions, but because inside you can find a lot of information and skeletons very well achieved. Surely the skeleton of the Brachiosaurus will catch your attention, which is 15 meters high. But you can enjoy many other species of dinosaurs. It is worth it.
The Berlin Museum of Natural History shows the evolution of life and the diversity and beauty of nature in the permanent exhibition "Evolution in Action". In the entrance area, visitors are welcomed by a huge dinosaur head, and behind it is the world's largest dinosaur skeleton, Giraffatitan brancai in the dinosaur hall. The multimedia exhibition illustrates life in the Jurassic period 150 million years ago. Look through the Jurascopes to see the dinosaurs virtually come to life before your eyes. And the original actual prehistoric Archaeopteryx bird dubbed the "Mona Lisa of Fossils", can be seen here.
Jurassic Land in Istanbul
Reportedly Closed?  If you visit Turkey, it can be an excellent opportunity to enjoy the beauty of this museum. It was inaugurated in 2011, and since this date, it has not stopped including dinosaurs in its ranks. This makes today a complete option, both fossils and models and skeletons. To this, we must add that it has a very competitive price.
While Jurassic Land is accepted as Europe's most comprehensive dinosaur-themed park, the museum has been enlisted among top 10 by international authorities such as CNN International as well as leading publications like Four Seasons Magazine. This is how it all began for Jurassic Land where one can walk through following a story: The dinosaur bones discovered during the construction of Forum Istanbul attract the attention of experts and then the research begins. And thus a brand new world is uncovered in the depths of the Marmara Sea.
Natural Dinosaur Museum – Australia
To enjoy it you will have to travel to Australia, specifically to Canberra. The Natural Dinosaur Museum is a museum that can be distinguished from those we can find, for example, in Europe, because it focuses mainly on the species that lived in the area.
The exhibitions cover the history of life on this planet with fossils from 700-million-year-old marine fauna through to fish, amphibians, reptiles, birds, and mammals.
And not only can you enjoy the dinosaur museum, but you'll love being able to stroll through its gardens and enjoy its sculptures. It is a museum for all audiences, although admittedly the kids in the house will love it. If you are lucky enough to travel to this country, it can be an enjoyable visit.
Field Museum in Chicago
For me, it is another of the best dinosaur museums at the moment. It is a museum that has many visits.  The museum has dinosaurs from all over the planet. Hence it is a complete option, and consequently, it has positioned itself as one of the most prestigious worldwide. Among other things, we must highlight the largest Tyrannosaurus fossil.
Our collection grew out of items on display in the 1893 World's Columbian Exposition in the "White City." The exposition delighted visitors with 65,000 exhibits filled with natural wonders and cultural artifacts, many of which later found a permanent home in Chicago at the newly created Field Columbian Museum. Our museum name still honors Marshall Field, who donated $1 million to make the collective dream of a permanent museum a reality.
Zigong Dinosaur Museum in China
China is a country that does not stop finding deposits in which new dinosaur fossils are discovered. Inside this museum, you can find exciting things, and dinosaur remains from different eras. Thanks to this, you can learn to see the evolution of dinosaurs and realize that they were not always the same throughout their existence. To enjoy it, you will have to go to the Chinese city of Zigong.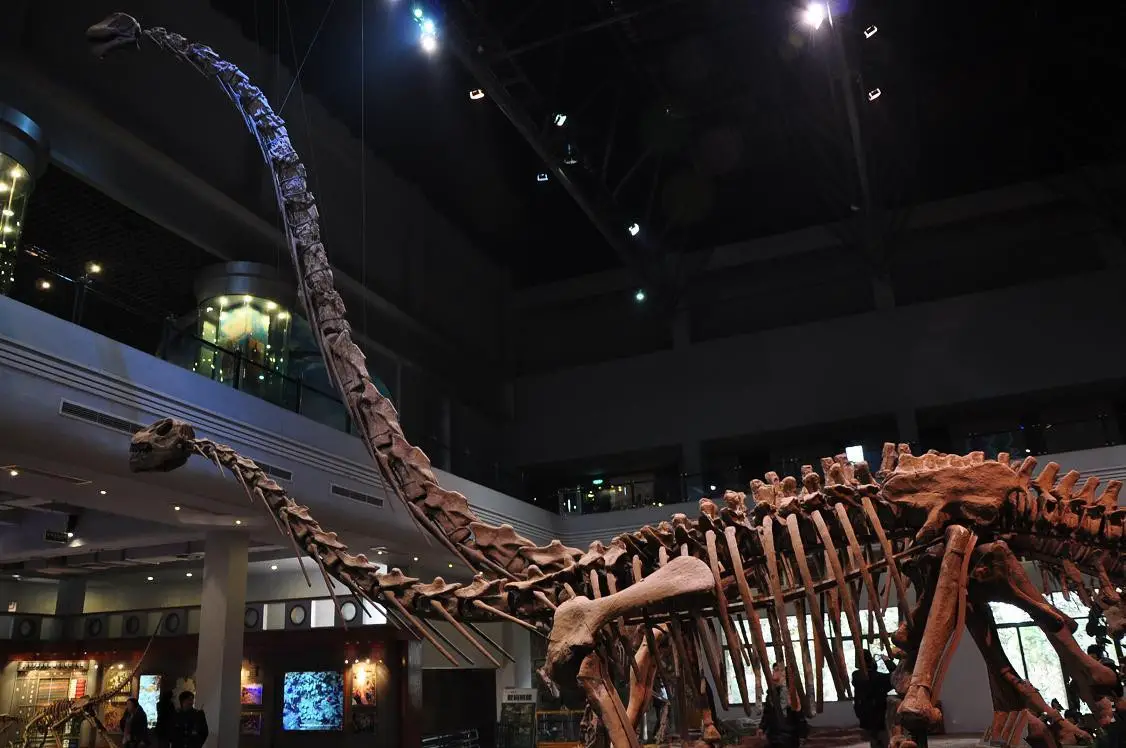 The museum holds affiliated buildings, a green belt, and halls which include a fossil burial hall, central hall, conference room, dinosaur ecological environment hall, and so on. Since the opening in 1987, the Dinosaur Museum has enjoyed a top reputation with its unique architectural style, magnificent burial site, life-like exhibits, and elegant environment. With two floors and a basement, the huge rock cave-like museum exhibits dinosaur fossils, dinosaur site, plants and animals in the age of the dinosaur, and rare species of dinosaurs.
Royal Tyrrell Museum of Paleontology
In this case, we travel to Canada to enjoy the beauty of the Royal Tyrell Museum. In it you can find a lot of information, remembering that it is located in Alberta. Do not forget that the strong point of this museum is its laboratory, where you can see first hand how fossils are found and removed from the earth. You will be able to know high-quality information, through which to understand how complicated the process of extraction, study, and exposure is.
Since 1985, the Royal Tyrrell Museum has presented the fascinating evolution of dinosaurs through its collection of dozens of skeletons and hundreds of fossils.
Wyoming Dinosaur Center
Now we travel to Wyoming in the United States. In this area many sites have been found, one of them being one of the largest in the world. Hence, the Wyoming Dinosaur museum was created. There is a lot to see, although the big stars are the supersaurus. This dinosaur will attract your attention because it has a height of 33 meters and spectacular dimensions.
With over 58 mounted skeletons and hundreds of displays and dioramas, the Wyoming Dinosaur Center will educate, inspire and capture the imagination of children and adults alike.
Dinopolis
If you want to travel to Spain, then it may be an excellent option to visit Dinopolis, which is located in Teruel. It is a place where you can see and enjoy many things and all this with the advantage of not having to leave Spain. It is also a museum that has been created for family fun, so it is well worth visiting.
Formed by a large central park in Teruel and seven more centers in seven locations in its province, Dinópolis combines science and fun to live closely the fascinating world of dinosaurs. A journey of 4.5 billion years in which you will hear the first beats of the heart of the Earth, you will discover how life arose and with it the most extraordinary creatures that have ever existed … Dinosaurs! … Visit one, several or all … You decide!
Natural History Museum in London
The Natural History Museum is still considered one of the best paleontological museums in the world. Inside you can find many things, hence it is a museum you should allot a reasonable amount of time to if you do not want to miss a single detail. Inside you can enjoy an extensive collection of dinosaurs and other beasts that will surely get your attention. The museum is very well distributed, intending to get you to understand it well.
Explore the history of these prehistoric reptiles and find out how Museum science continues to reveal insights about what dinosaurs looked like and how they lived. Watch dinosaur videos, take our quiz to find out which dinosaur you're most like and try our dinosaur crafts and activities for kids (and big kids).
Eliseo Palacios Aguilera paleontology museum in Chiapas
This museum is located in Mexico and is another exciting option for dinosaur lovers. It has extensive gardens through which you can enjoy more than 200 fossils, which have been found in the area. Also, the museum is expanding to house discoveries. Hence it is an excellent experience for all visitors. To give you the idea, fossils are 300 to 10 billion years old. It is another of the best options right now.
Located on southern Mexico, Chiapas has a world-wide importance not only by its cultural characteristics and diversity of nature and wildlife, but also by its paleontological resources in almost all its territory, which lets us know part of its history and evolution, as well as the geographic characteristics that the state had millions of years ago.