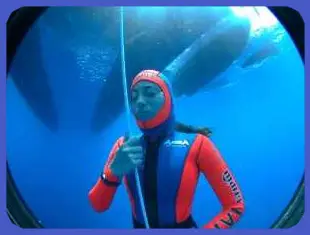 It's quite an ego boost to know you're the only person in the history of the world to have accomplished something, especially when you've devoted your life to achieving it. World records are documented proof that you're the best of the best, and that hard work pays off; however, the lengths at which people go through to achieve records can be mighty costly. Since world records have been kept — the advent of the Guinness Book of World Records hasn't helped in recent years — many people have lost their lives in their quests to do the seemingly impossible. The nine deaths below are just a few of the ones that have been documented. The tragic outcomes, however, didn't overshadow the impressive courage they displayed.
It may not involve blistering speeds or months-long treks, but freediving is equally as dangerous. At the time of Mestre's death, about 100 freedivers were dying each year out of the 5,000 around the world. Mestre, a French woman who came from a family of scuba divers and snorkelers, had spent most of her life underwater and certainly didn't lack experience. She trusted her abilities, and therefore in 2002, had the confidence to dive 561 feet in the deep waters 81 miles east of Santo Domingo, Dominican Republic. When she blacked out at 300 feet with an empty air tank, she was rushed back to the surface. After spending nine minutes under water without oxygen, there was nothing that could be done to save her.
Not long after setting the world record for the deepest rebreather dive of 505 feet, Lenoir focused on establishing a new one. While training in preparation for the next attempt in DeHab, Red Sea, a technical malfunction resulted in oxygen toxicity at 482 feet, causing her to die. The accident occurred despite the fact that multiple safety drivers were stationed below the surface and more than 100 tanks were mounted on the downline. Her ultimate goal was to reach 754 feet In Egypt.
A fur broker by day and speed demon by night — or when he wasn't working, at least — Cobb strove to become the fastest man on earth and water. In 1939, he broke the land speed record by hitting just under 367 mph and broke it again in 1947 when he hit 394 mph. in 1952, he set out to achieve the water speed record at Loch Ness using the jet speedboat Crusader. Traveling 240 mph, it skids in the water and disintegrated. Cobb is still regarded as an English patriot for his gutsy attempts.
Campbell was an English speedster extraordinaire who could do it on land or water — in 1964, he became the only person to hold both land and water speed records. The eight-time record-breaker couldn't get enough of the thrill and met his demise doing it in 1967. While trying to break his own water speed record in his jet-powered boat, the Bluebird K7, at 300 mph, it ascended into the air as he was just a split-second away from achieving his goal. He died immediately as the boat hit the water and crumbled. Many people believe the crash occurred because the boat was lighter due to a lack of fuel. It wasn't until 2001 that Campbell's body would be recovered.
Parry-Thomas holds the unfortunate distinction of being the first driver to die in pursuit of the land speed record. A chief engineer for Leyland Motors, he understood the function of a quality motor car and received numerous patents for his inventions. After acquiring the Chitty 4 from the estate of fellow racer and engineer Count Zborowski, he rebuilt it solely for the purpose of capturing the land speed record, which he did in 1926. A year later, he was killed while trying to break the record when the right-hand drive chain busted at 170 mph and he suffered a fatal head injury.
One of the early legends of racing, Lockhart was an Indy 500 winner who held the all-time qualifying speed record for decades. Naturally, he strove to obtain the land speed record and attempted to do so in 1928 in a car named the Stutz Black Hawk Special. During the run, one of the car's tires was slashed causing it to lose control and tumble 140 feet down the beach on which it was racing. Lockhart's lifeless body came to rest 51 feet from the vehicle. It was the first of several tragic deaths that have affected the motorsports community.
Fear never stood between Graham and his goal to reach 400 mph on the Bonneville Salt Flats. The popular mechanic from Salt Lake City was well-aware of the dangers that came with driving at such speeds, telling spectators prior to his 1960 attempt not to be alarmed if his car skidded early. Unfortunately, it did just that as he was traveling 300 mph, flipping end over end until it came to a stop. Graham, always the tough guy, wasn't killed immediately — he held on for two hours before the extensive injuries became too much.
Evel Knievel famously attempted to jump 13 buses in London and ended up suffering severe injuries and announcing his retirement afterward. In 2005, Palizbanian, an Iranian daredevil, attempted to leap over 22 buses but landed on the 13th bus, dying immediately. Prior to taking off, he announced that he was "going to break the world record and do something for my country to be proud of." Like Mestre, he was hardly a novice. A month earlier, he successfully cleared a 51-yard-wide river on his bike.
Early in his adulthood, Hinkler was a gunner and observer in the British Royal Naval Air Service during World War I. Perhaps, more importantly, he contributed to the military by inventing aviation instruments that were used until World War II. An expert aviator, he successfully flew from England to Australia for the first time in 1928 in just 15 and a half days — the previous record was 28 days. Five years later, he attempted to break the flying record to Australia of eight days and 20 hours, but he disappeared until his body was found in the Tuscan Mountains in Italy. He was laid to rest with full military honors.