THE ORDER ARTIODACTYLA
Artiodactyla – Even Toed Mammals (About 180 species)
These are even-toed hoofed animals, also known as "cloven-hoofed." All hoofed animals were once united in the order of "Ungulates," but they have been separated now between the even-toed and the odd-toed hoofed animals. The Artiodactyl animal has the axis of its foot lying between the third and fourth digits so its weight is borne equally by the two middle toes. The first toe has been lost in evolution and can be seen now only in fossil forms. The second and fifth toes, those located on the sides of the foot, are also lacking in many living species, or are merely vestigial remains, thereby leaving just the two prominent toes on each foot.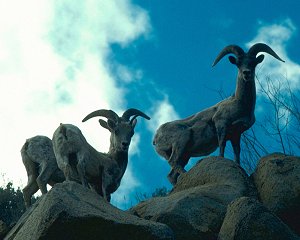 This is the important diagnostic feature of Artiodactyls since the word "Artiodactyla" means "even-toed." But a further distinction setting them apart from their odd-toed cousins is their development of true horns or antlers. Artiodactyls are also the more successful ungulates since the order embraces about 180 living species, and is found on every continent except Australia and Antarctica.
The even-toed ungulates include a vast array of common animals: pigs and peccaries, hippos, camels and llamas, chevrotains and deer, giraffes, pronghorns, and antelope of every description, together with cattle, sheep, and goats. They can be as small as a five or six-pound mouse deer or dik-dik, as tall as a giraffe, or as heavy as the nearly one-ton giant eland or Indian gaur, or the bulbous hippopotamus.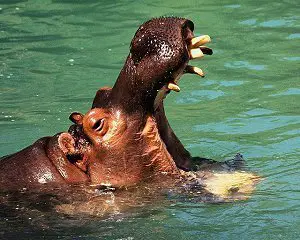 Overall, however, there is considerable uniformity in their anatomy. The cheek teeth are large, often complex, and effective for grinding since Artiodactyls are herbivores. (Some pigs, however, are omnivores.) The upper incisors and canines are reduced or absent, although in a few species they are elongated like tusks.
Pigs, peccaries, and hippos have a two or three-chambered stomach and are not ruminating (cud-chewing) animals, which gave them the classification of "unclean" in the Old Testament of the Bible. Camels and their South American cousins the llamas, as well as chevrotains, also have a three-chambered stomach, but they do chew their cud. All of the other even-toed ungulates are ruminants that have a four-chambered stomach. Most Artiodactyls have an enlarged cecum, which is a chamber where its food can be fermented, thus digesting more of the hard cellulose that makes up most plant cells.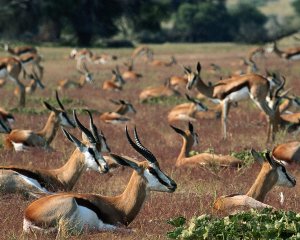 The cecum also accepts inorganic matter, such as sulfur, magnesium, calcium, and sodium. Because the Artiodactyls need these vitamins and minerals to grow connective tissue, hair, horns, and hooves, they often seek out mineral "licks" where they can directly ingest these dietary supplements.
Many Artiodactyls, such as various kinds of antelope, are quite fast. They have long, slender limbs built for speed, and they are often grazing types, found in enormous herds on the open grasslands. It is from these Artiodactyl animals that man has been able to exist, since primitive man doubtless hunted them, and later when man settled down several thousand years ago, he selected his domestic livestock from among their lot.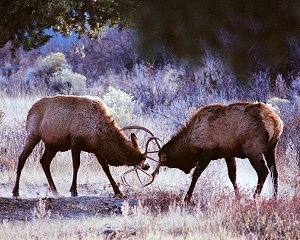 Artiodactyls' ancestors were among the earliest mammals, appearing during the Eocene about 50,000,000 years ago. They were barely the size of rabbits back then and depended on their speed to evade predators. Although a few of them today, such as bulls or the tusked pigs, use their horns and tusks to fend off predators, most horns are either just for show or used by males to fight each other for the honor of mating with a chosen female. The preferred means of self-preservation for the vast majority of them remains speed and agility in flight from danger.
Check out the following specific artiodactyls included:
Bush Pig
Wild Boar
Wart Hog
Babirusa
Peccary
Pygmy Hippopotamus
Hippopotamus
Dromedary
Bactrian Camel
Guanaco
Vicuna
Llama
Chevrotain
Mouse Deer
Roe Deer
Giraffe
Okapi
Pronghorn
Bushbuck
Kudu
Eland
Nigai
Antelope
Water Buffalo
African Buffalo
Yak
Gaur
American Bison
European Bison
Bay Duiker
Banded Duiker
Common Duiker
Waterbuck
Lechwe
Reedbuck
Sable Antelope
Gemsbok
Addax
Topi
Hartebeest
Gnu
Klipspringer
Oribi
Steenbok
Royal Antelope
Salt's Dik-dik
Kirk's Dik-dik
Blackbuck
Impala
Gerenuk
Gazelle
Addra
Springbok
Saiga Antelope
Goral
Serow
Mountain Goat
Chamois
Takin
Musk Ox
Tahr
Ibex
Markhor
Bharal
Aoudad
American Bighorn
Dall Sheep